A couple of weeks ago, I wrote
this post
about the DIY picture frame I made for my little sister, Callie, who was going away to college. I wanted something special for her to have in her dorm room, and this is what I came up with. All the project really involves is an open-backed frame, some picture hanging wire, and some clothespins. You can find the "how-to" details on the
previous post
.
This is Callie's final dorm room art product, where I added family pictures, a family recipe (French Toast!)
and some fun trinkets, all dolled up to match Callie's black and hot pink dorm room.
The final product hanging on Callie's dorm room wall!
As I was making the frame for Callie, I decided that I kind of wanted one too! Since funky black and hot pink aren't exactly the color schemes in my house, I ended up on the opposite side of the spectrum and went (surprise, surprise!) the au naturale route.
I found the perfect weathered wood frame at Hobby Lobby (50% off, of course!) and got to work, adding mainly
pictures that my cousin took
when she was in town a few weeks ago. I also added a few fun trinkets that are special to David and I.
And here's the finished product!
And some close up shots.
Besides the pictures, we added some things we picked up while we were on our visit to Savannah, Georgia last month. The fun hand-stiched bobble guy is actually stationary that was hand-made by a SCAD (Savannah College of Arts and Design) student! They have an entire store in downtown Savannah that is dedicated to selling the creations of the students, professors, and alumni of SCAD. For those of you who can't make it down to Savannah anytime soon, don't worry, they've got an online store posted here:
SCAD Store
.
The antique "r" button (for our last name) and the antique number pins (spelling out a number near & dear to our hearts) were also picked up in Savannah at
The Paris Market
. This store could hands-down be one of the coolest stores I've ever been in. You honestly feel like you are shopping at a Parisian antique flea market! It is super, super cool.
While I really love Callie's fun dorm room art, I am super in love with ours as well! The fun part is that the art is completely interchangeable, so we can mix it up whenever the urge strikes! Here's the frame up in the living room.
I love, love DIY (read: cheap!) wall art, so go ahead and please comment, share and link up to any new DIY art that you may have created lately!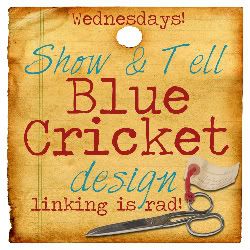 Whatever Goes Wednesday on Someday Crafts