Ho ho ho! Christmas cheer is spreading throughout the Ten June household! So far, I've got the tree up and it's decorated with a few of my
DIY cranberry glass ornaments
. Because we put the Christmas tree up in the living room where our slipper chairs and nesting tables usually go, I had to move one of the chairs and the table to the tiny corner of the room by the television, right under my favorite new
rustic DIY wall sign
. It's kind of a cramped space, but it will work for December!
Needless to say, that's where I decided to set up a sweet little holiday vignette. I set up a tiny Christmas tree and wrapped its base in leftover linen fabric I had laying around. I dressed it with a glittery bow, but instead of putting ornaments on the tree, I decided to try a little something different and fill up a vase with sparkly ornaments beside the tree. I think they look great!
I stacked the vase + ornaments on top of a few holiday (or holiday colored!) books and a wrapped gift box for some extra height. Looks like I need a few more holiday books to add to my pile! : )
For the slipper chair, I simply pinned a swatch of red felt onto the front of our sofa's linen pillows. Since these are our everyday pillows, I didn't want to make a permanent holiday pillow, but I'm sure you could recreate this idea and actually sew the felt on... and it would look a whole lot more snazzy too! : ) I also pinned on a mitten ornament that I found on sale at JoAnn's. Voila! An easy breezy holiday pillow.
So there you have it, my little holiday vignette!
Have you set up any fun holiday related spaces in your home? Maybe you decorated a sideboard, prettied up a counter top or tinseled your entryway? If so, you better get on over to Courtney's blog,
A Thoughtful Place
, and
link up with her today
!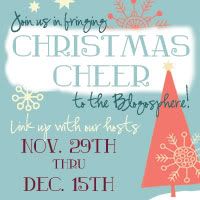 And don't forget, the Christmas decor party keeps rocking next week right over here at Ten June. We'll be linking up and sharing holiday mantles next Tuesday!