Between unpacking our new home, decorating for fall, decorating for Christmas and un-decorating for Christmas (ha!), I haven't gotten to work on many fun home decor projects lately. That's why I have you guys, to inspire me! Let's see what you guys have been up to lately!
I don't think I'll ever get tired of the gradient/ombre trend on furniture and fabrics. Check out
Erin's
curbside trash dresser find turned fabulous decor piece. She nailed it!
Not only am I loving their amazing Halloween decorations, but I'm also totally jealous of that gorgeous dark wall color in this awesome entryway space from
Oldest Middle Little
.
I also have to brag on a few bloggers who have seriously knocked my pants off lately. Wait, that's not how the saying goes... knocked my socks off. No pants would just be getting awkward. Pants on, I promise!
Ashley over at
The Handmade Home
made over her family sun porch into an incredibly inspiring studio for her to work in. I could seriously pin every single image for her
reveal post
as inspiration, it's amazeballs!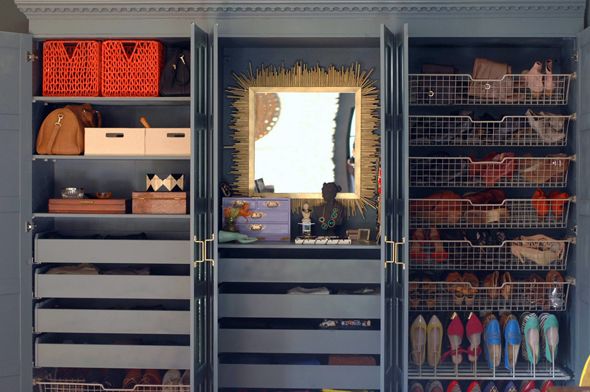 I'm in awe as to how much talent is how there in the world. Keep sending me your projects, folks, I love sharing them!
Stay tuned... I've got a really fun holiday giveaway tomorrow that you won't want to miss. Here are a few hints: stamps, photos and mailboxes. You picking up what I'm throwing down? : )