This little project is easy, peasy folks! And, if you're a klepto bold like me, it's free!
I, ahem, collected a few paint chip samples from my local hardware store. I chose gorgeous fall colors- burnt orange, creamy white and chocolate brown- and mixed them with a pop of an unexpected pink. I think the pink brings in a touch of modern sass to the decor.
(the shame! a crappy iPhone pic... I was too lazy to get out my new camera)
I used my handy Fiskars circle punch (I've got two sizes) to cut out the circles from the chips.
[Psst! I noticed in my local ad that these are 30% off at JoAnns right now!]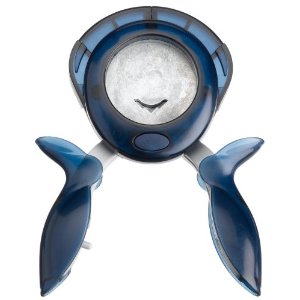 Grab some clear fishing wire + Scotch tape and BOOM. You've got yourself a fun fall garland. I decided to hang mine in the breakfast are of my kitchen. The game plan is to spruce up the table with a pretty fall centerpiece to complement the garland. And hopefully, once the leaves begin to change outside, they'll peek through the windows and add even more fall beautimousness.
Up close and personal.
This could actually be a fun project for a kids room or party decor.
I'm really loving the random splash of hot pink I threw in there, mixed with the traditional fall colors.