Hi friends! I need some advice. David and I are shopping for a sofa bed for our new place. I think we'd like to make one of the three bedrooms an office/guest room combo, so it makes sense to save space and add a sofa bed to the room instead of a full sized mattress. The only problem is that we don't want to invest a bunch of money in a piece we only need temporarily.
With that said, do you have any suggestions?! Unfortunately, Craigslist or anything thrifted is out of the question... I'm not a big fan of secondhand upholstered items and we don't have the time to reupholster a piece right now.
Here are a few that I'm looking at.
This
Ikea classic
is good on the eye, but a little pricey for something that folds out to be pretty small. Or is it big enough for two? Anyone ever seen it in person?
This
Ikea option
is pretty much a glorified futon, but it's cheaaaap.
I would love this
contemporary Ikea beauty
, but I'm pretty sure it's too expensive for what we're looking for. Although I've heard great things about the sofa!
Along the same lines, this
Urban Outfitters contemporary sofa
is better priced, but it's foam padding instead of a mattress. Do you think the foam padding is comfortable? Does it wear well? Would this size sleep two? If any of you have seen this one in person, please share!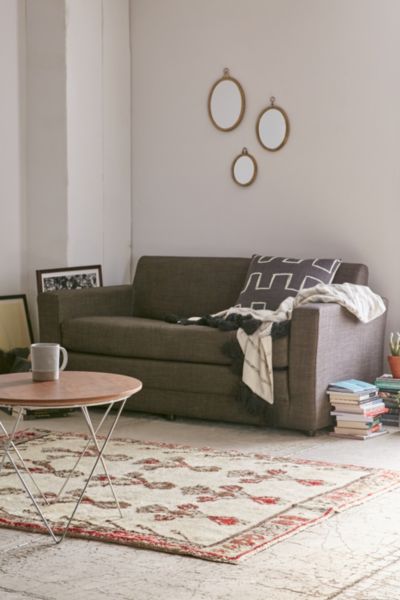 Yessss. Red, white and blue, baby.
But seriously, I'm like the Goldilocks of sofa beds. Too big, too small, too expensive, too cheap. So, I need your help! Got any sofa bed shopping suggestions?!