There are always a ton of random things floating around in this head of mine that I'd like to share with you guys. Whether you like it or not! I've decided to introduce a new "jot list" post where I can share some of that randomness in a quasi-organized fashion. Sound good to you?!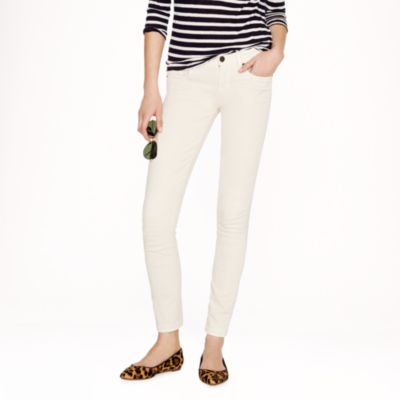 1. White jeans.
We woke up to a 70 degree morning yesterday here in Atlanta. 70 degrees! That's basically heaven in August! And today is pretty cool, as well. So that gets me thinking about fashion for my faaaavorite season- the fall. I know you're not supposed to wear white after Labor Day and blah, blah, blah, but I think a soft "winter" white like
these ecru jeans from J.Crew
are a perfect transition from summer to fall. Top them off with a scrumptious cable-knit and boom. The perfect fall outfit. I can't wait!
PS. J.Crew has 30% off their sale items in store and online! Get it, girrrls.
2. Baby butts.
This is for all of those moms out there. Well, you non-moms can oogle at how cute my sweet HDawg's little boo-hiney is, of course : ) But for all of you mommas of tykes around HDawg's age, I have help when it comes to the pajama world. I have hard the hardest time finding footed and long sleeved/long pants pajamas for H that are in his size (he's already in 18 months for the most part!), cute and reasonably priced. Footed pajamas and long pants are so much easier (and warmer) at night than the loose shorts/t-shirt sets they typically sell for his size. And apparently I want him dressed in infant clothes forever. But, finally, Carters just released a ton of new designs for baby-toddler in-betweeners (boddlers?). We bought a few of
these
,
these
and
these
and love them! Just a heads up, mommas.
3. Baby gear.
Speaking of bambinos, I shared a fun list of
"must have" baby gear products for the 0-3 month stage
last year. I see the post on Pinterest all the time. Is it something you guys loved? If so, I'd be more than happy to create a 6-12 month list and maybe even go back and do a 3-6 month round up if you guys are interested. Let me know what you think!
4. Tuesdays at Ten June. I haven't had a lot of submissions so far for next week's feature post, so I need you guys to send me some great stuff! Maybe this is your week to have your awesome DIY project, room makeover, recipe, kids DIY or other project featured front and center right here on Ten June. Send me an email (tenjuneblog@gmail.com- subject line "Tuesdays at Ten June") or tag your photos on Instagram (#tuesdaysattenjune). I know you guys are doing great stuff out there, so send 'em to me!
5. Books. I love 'em. But I haven't read any good books at all this summer. I recently asked my IG followers if they had any suggestions and boy, did they have answers! Thank you to all of you who answered with a list full of great books for me to catch up on. My Kindle wish list is officially full! If you want to find out some good reads, check out this post and the comments on Instagram (you can find me @tenjuneblog).
Alright, that's all I've got for today. The baby and I are headed off for a great day of lunch at work with David and some errands. I hope y'all have a great weekend!