As of last week, a few things had changed as the nursery was evolving, but the basics were the same as the mood board above.
We purchased
this crib
from... of all places, Walmart! I did a lot of research before buying this crib. We wanted the crib to be a) solid wood, b) inexpensive, c) modern, clean lines and d) dark wood. I would have preferred something more honey oak colored like in the mood board, but the Walmart crib was amazingly fit all of the other criteria that I was totally fine with its espresso color.
While this crib would have been perfectly adorable in baby girl's room, I felt like it was a little too masculine compared to HDawg's sweet white crib. So, last weekend, we switched the two! It has actually worked out perfectly... HDawg's new crib also came with a toddler rail and is lower to the ground, so it will be perfect once we decide to "de-crib" him. And the white crib, which you can read more about
here
, will be perfect for our little baby girl!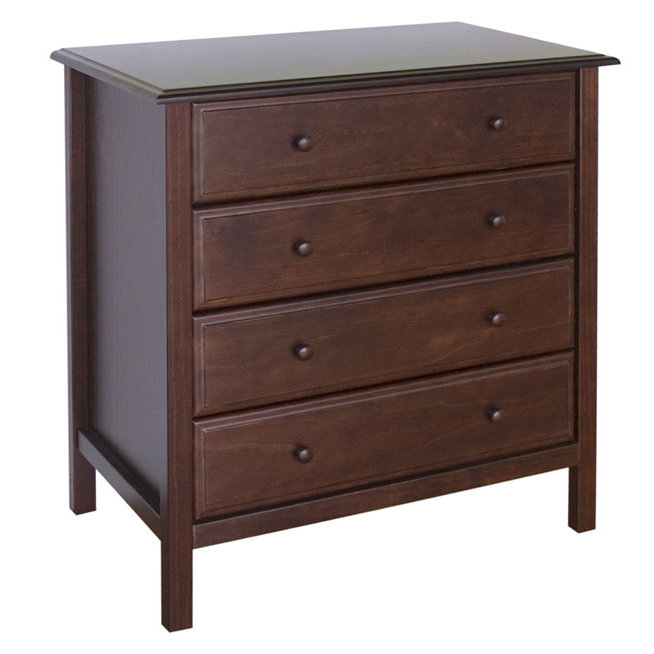 My friends at
Wayfair
were generous enough to gift David and I with a changing table/dresser. We chose
this
beautiful, modern wooden dresser. I think it will be adorable mismatched with the white crib. And, thanks to some really fun ideas from my sweet design-loving friend (hi,
M
!), I have some ideas for additional updates I plan to make to the dresser. Should be fun!
After the big debate in
this post
, we have finally decided to put HDawg's glider in the new baby's nursery. My mom has an old school white rocking chair that she's going to pass down to us to use in H's room as we phase him out of the rocking thing.
While the walls haven't actually been painted yet, we do have a very, very pale light blue paint color ready for the walls. Like, the cans are stacked in the nursery, ready to be cracked open. To tell you the truth, I think we're going to keep that color for baby girl. It should work well with what I've got planned for the room! More on that below.
I purchased
this rug
from RugsUsa about a week before we found out about baby girl. Luckily, the red striped rug hadn't shipped and I was able to cancel the order. I've got plans to order a new rug for baby girl and, yes, they include pink.
Okay, so speaking of pink, let's talk about what my new plans are for the room!
As I mentioned, we're going to use the light blue wall color, white crib, dark espresso dresser and off-white glider. The rest of the room? Pink and gold, baby. All girl! Kind of like this.
Pretty, right? I can't wait to share everything with you as it comes together. Wait, let me start by saying I can't wait for all of this to come together, ha. I only have a few more weeks!
If you've got any adorable pink or gold nursery suggestions, send 'em my way!